The Pets of Althaus Law
Our law firm wouldn't be complete if it weren't for our pets! If you would like to know a little bit more about the animals behind the scenes, feel free to check out their bios below.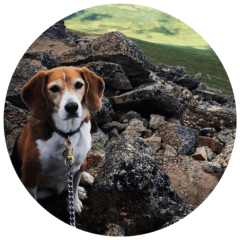 Macy – Legal Beagle
Macy is a very particular lady and arguably the alpha of the dog pack. If she wants something, she has no qualms making it very clear to both Moses and Shiloh that they are not to have it. Underneath her leadership attitude, she is all love and affection, however. She will paw at your lap until you cuddle with her and loves to snuggle under any blanket that someone is trying to use, afterall, it's her blanket and she is just letting you borrow it.
Macy is roughly 8 years old and loves living in Colorado. She was born in Minnesota but loves the warmer and drier climate here. She enjoys hiking, camping, napping and sunning throughout the day. You can usually find her lying in the only spot of sun on the floor, wherever that may take her.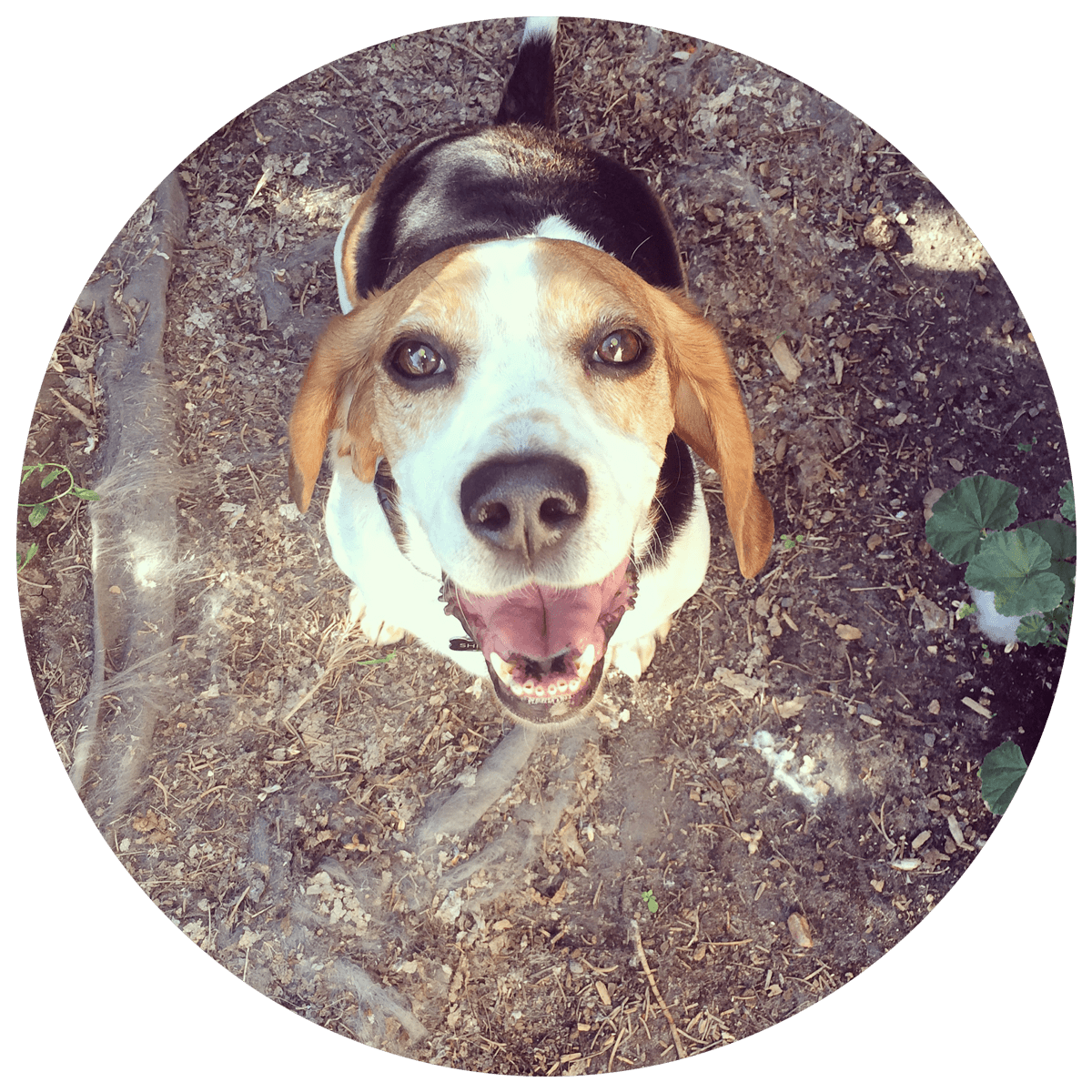 Shiloh – The Beagle/Basset a.k.a. Bagel – Legal Beagle in Training
Shiloh was rescued when he was roughly four years old, which makes him somewhere in the ballpark of eight. Him and Macy are connected at the hip, but don't try to get him to play with Moses. He will be busy pretending the husky doesn't exist. Moses and Shiloh don't dislike each other, they just refuse to believe the other one is real.
Shiloh is an interesting part of the family. He is the sheriff and alarm, he is the worry wart, and is also the best cuddler on the planet. His best achievement was to nap for 5 hours straight without moving. His favorite activities include pacing the house waiting for his humans to come home, barking at doors and eating everything in sight. He is a much loved and invaluable member of Althaus Law.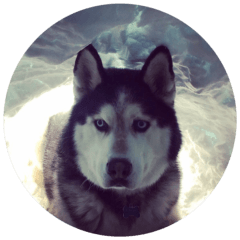 Moses – The Siberian Husky
Moses was the founding father of Althaus Law and loved by everyone that met him. Unfortunately, we lost this brave soul in 2020, but he will always be remembered. He had a great plan in place that fortunately transferred all his assets and love to those who needed it most.
Moses loved everyone and was quick to greet all with his wet nose. As anyone who has ever had a husky in the family knows, shedding was on the top of his priority list. Underneath all that fur, however, was a kind-hearted and much loved member of the Althaus Law family. If you had a chance to meet him, you undoubtedly left happier than when you walked in, and probably with some of that dog hair on you too. RIP Moses, we miss you.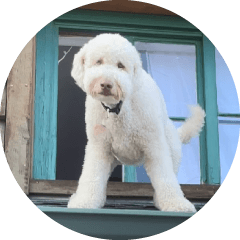 Wesley – the Whoodle checking in for my office bio!
Mom's been dragging me around the map since 2019; my favorite place so far has been Grand Valley State University! My best friend, Elvis and I would run the tailgates, hang out with all of our friends and watch the Laker's win- I even got to go into the stadium and wasn't scared of the fireworks! I really loved college but apparently my favorite thing to sneak (Mango Whiteclaws) isn't a drink for puppies-who knew? We moved to Colorado in 2020 and I worked with my mom as a nanny where I was mistaken for a sheep daily. So after that experience I'm extremely happy mom's job change landed us in an office setting so I can hang out with my friends and not be chased around! A fun fact about me is that I'm named after the lead singer from the Lumineers, Wesley Schulz, who doubles as my dad even though my mom always says I don't have one. Oh, I also love to watch Tiger King, Joe Exotic will have me come running from any room! I am so excited to be head of the welcoming committee here at Althaus Law and look forward to meeting you during your next appointment with my favorite human attorneys!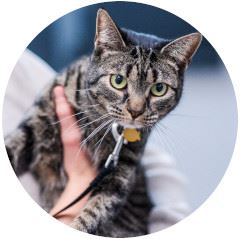 Moof
Moof was just a few months old when she was adopted into the Seale family. We originally named her after Mufasa but that just didn't fit. Moof is much more her style. Though she hasn't been climbing with us yet, she has enjoyed little walks outside, as long as she can still see the front door (not huge on snow, though). We try to spoil her with all kinds of toys, but we have found that Moof specifically likes old shoelaces and other strings. Boxes that are about to be recycled are another one of her favorite things. She does occasionally cuddle with us, usually right when the person whose lap she has selected has to get up for whatever reason. Overall, Moof is a funny little cat who brightens our everyday!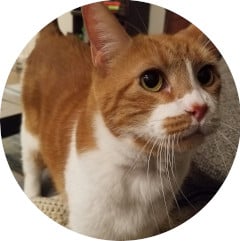 Kat – Excellence. Enthusiasm. Compassion. Authenticity.
These are the words that Kat lives by as he sleeps 20 hours a day. Andrew adopted Kat right after his 8th birthday from Sloppy Kisses Animal Rescue in Highlands Ranch, and they have been best buddies ever since. We don't know much about Kat's back story, but Sloppy Kisses stated that Kat had been sent to them after he had been in a kill shelter in Texas. Kat has very few teeth and no front claws but exudes confidence due to his elegant half moustache. Kat loves to poop, eat, stare out of the window, and encourage other cats to get their estate plans so that all their toys are sure to be passed on to their kittens and so their kittens can avoid cat probate. Andrew is incredibly thankful for Kat's companionship, and sometimes gets the feeling that Kat thinks that Andrew is his pet, instead of the other way around. Kind of makes you wonder who rescued who?
Schedule Your Consultation
Fill Out the Form Below to Get Started
Understanding
The topic of estate planning can be difficult to discuss, especially since mortality is one of the main topics. At our compassionate law firm, we understand this and many of the other sensitive issues that arise when resolving estate planning concerns. You can rely on our experience to lead you through these complicated matters with an open and honest mind.
Compassion
We love getting to know our clients and their families. It brings a smile to our faces to know that we help preserve what you have worked so hard to earn while being able to pass it on to your future generations.
Community
Althaus Law prides itself on its dedication to the Colorado community. Not only do we volunteer more than 10 hours a month to local nonprofit organizations, but we also strive to be a
completely green firm
. Further, we donate a percentage of all profits to charities.
Focus
Estate planning and probate are all we do. We focus day in and day out on staying up to date on the latest estate planning and probate laws. At Althaus Law, we are constantly researching the newest techniques and strategies that can save our clients and their families money in the long run.