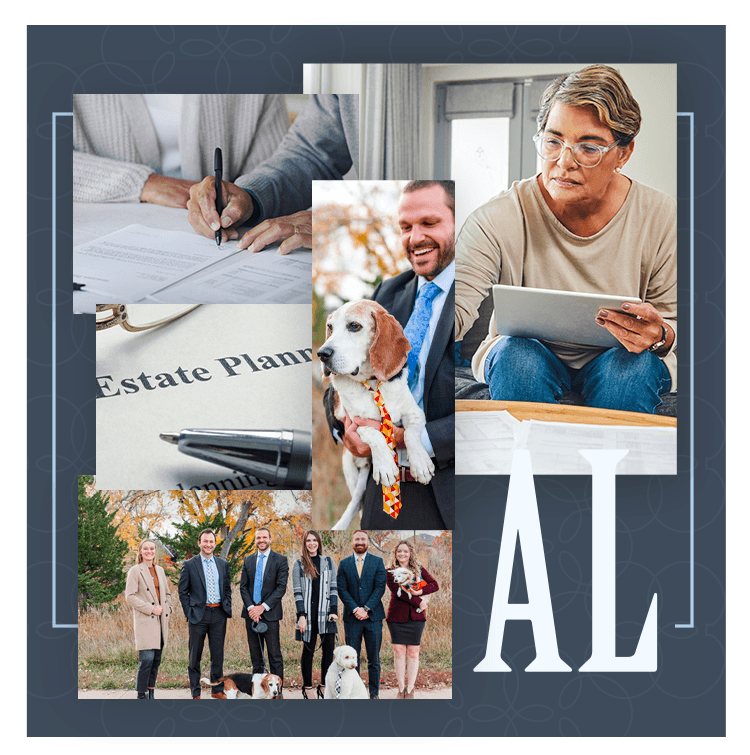 Thornton and Longmont Estate Planning Attorneys
What Is an Estate Plan?
No matter who you are, you have an estate. An estate encompasses all the financial assets you own, such as your property, accounts (checking, savings, and retirement), debts, mortgages, investments, business interests, life insurance policies, and so forth. Detailed estate plans cover all these things and more. Whether you are young, middle-aged, or a senior, having an estate plan is a proven way of protecting your long-term interests, providing for your loved ones, and controlling what happens to your assets after your death. Well-planned estates distribute valuable assets to family members and offer them a degree of protection from debts or other financial burdens. For families with dependent children, estate plans also give you control over their guardianship.
If you are ready to begin planning your estate, you have come to the right place. The lawyers at Althaus Law are dedicated to helping Colorado residents plan their futures. We utilize proven strategies—including wills, trusts, guardianships, and powers of attorney—and tailor them to fit your specific needs. We know thinking about the future in this way may not be pleasant, but you can trust that we will care for you throughout the process, providing the support and guidance you need. In fact, Attorney Jeff Althaus has literally written the book on the subject, You Only Die Once, as a practical guide to answer your questions and a testament to his in-depth knowledge of this often complex practice area.
Find Your Peace of Mind
Protect yourself and your family by creating a trust and estate plan for the future. Get started today with a free, no obligation consultation with a member of our team.
Planning Your Estate in Colorado
"One-size-fits-all" does not apply when it comes to planning your estate. Strong plans account for unique financial, legal, and personal situations. Plans for people with young children or loved ones who require ongoing medical attention and physical assistance will likely look very different from plans for people whose family members are financially independent and live on their own. People who are married may also have very different concerns than single adults. Business owners will also have unique considerations
Because estate plans are extremely personalized, it's important to work with an estate planning lawyer who will consider your particular circumstances.
When you choose to work with Althaus Law, our estate planning attorneys in Longmont and Thornton will pay close attention to your unique situation to craft an estate plan that serves your personal and financial interests. We also assist individuals and families who already have estate plans but need to update them. Whether you're recently retired, divorced, or a young professional, we can help you get your estate in order.
Our estate planning services include:
Contact our Thornton and Longmont estate planning attorneys today by calling (720) 513-2299.
Colorado Estate Laws
Each state has unique estate laws, and Colorado is no exception. If you die without making detailed arrangements via an estate plan, these laws will decide what happens to your assets, such as how to allocate them to your relatives and how to pay off creditors.
Colorado's estate laws also govern wills, living wills, trusts, durable powers of attorneys, and the probate process, including establishing when probate is necessary, defining valid wills, and limiting who can serve as personal representatives.
If you live in Colorado, in or around Longmont, Thornton, or Denver, we invite you to partner with Althaus Law for experienced and informed guidance concerning your estate. We are conveniently located in the north suburbs off of 112th Ave. and Huron – so you never have to worry about driving in I-25 traffic or finding a parking spot downtown. We even have a dedicated parking lot for our clients!
Work with us to give you an idea of how the state's laws apply to your situation. We can draft an estate plan that helps you achieve your long-term goals.
Call or message us to schedule a free estate planning consultation or flat-rate probate consultation* with our estate planning lawyers in Longmont and Thornton.
Schedule Your Consultation
Fill Out the Form Below to Get Started
Understanding
The topic of estate planning can be difficult to discuss, especially since mortality is one of the main topics. At our compassionate law firm, we understand this and many of the other sensitive issues that arise when resolving estate planning concerns. You can rely on our experience to lead you through these complicated matters with an open and honest mind.
Compassion
We love getting to know our clients and their families. It brings a smile to our faces to know that we help preserve what you have worked so hard to earn while being able to pass it on to your future generations.
Community
Althaus Law prides itself on its dedication to the Colorado community. Not only do we volunteer more than 10 hours a month to local nonprofit organizations, but we also strive to be a
completely green firm
. Further, we donate a percentage of all profits to charities.
Focus
Estate planning and probate are all we do. We focus day in and day out on staying up to date on the latest estate planning and probate laws. At Althaus Law, we are constantly researching the newest techniques and strategies that can save our clients and their families money in the long run.